It is only once in a while that a Hindi movie comes along, which defies the norms of a typical Bollywood film and still manages to strike a chord. A recent example being Tamasha, a romantic-drama film featuring ex-couple, Ranbir Kapoor & Deepika Padukone.
I reluctantly went to see the movie, expecting it to be just another rom-com, probably with a few twists thrown in for the sake of distinction. But I couldn't have been more wrong in my assumption. Tamasha was nothing like any other romantic drama film I've seen in Bollywood for a long, long time.
The story is essentially of Ved (Ranbir Kapoor), who, since his childhood, loves listening to all kinds of stories and has a talent for playfully emulating different characters from the stories he's heard. His only problem- The real world in which he lives. Everyone from his family members to school teachers impel him to spend less time day dreaming, and focus more on things that matter, like studies, career, etc. So our protagonist has to bury this side of him and put on a front to convince the world that he's just another common man running in the rat race which he knows he can never win.
That is until he meets Tara (Deepika Padukone).
Thanks to a chance encounter while holidaying in Corsica, France, our two leads meet and decide to have fun together, but, without revealing their identities. So, Ved becomes Don, and for once in his life,talks, sings, dances, behaves, and lives the way he really wants. And then, after 7 fun-filled days, they part ways, albeit not without sharing a few, very precious intimate moments.
But while Ved and Tara remain unconnected for quite a few years, each living in a different city in India, the memories from those 7 days in Corsica never leave their hearts. So when Tara relocates to the same city as Ved, they try to ignite the same flame, only for Tara to realize she fell in love with Ved's alter ego Don, and not the (French-bearded) boring, ordinary, person he has become, since coming back from Corsica, to the "real-world."
The events which follow are what make this movie special and different. Through Ved's character, we are taught some very deep and profound life lessons; a) to never lose touch with your childhood, b) to hold on to a little part of your younger self, no matter how crazy it may have been, c) to let go of things which don't make you happy, no matter how important they may seem, d) that within every individual, there may hide a creative genius who is too afraid and ashamed to give up his "highly-rewarding" job to follow his passions, e) and finally, that sometimes, all it takes is the right person to come into your life, to help you realize your dreams and fulfill your true destiny.
In the end, the whole story beautifully comes full circle, with both Ved and Tara realizing just how important each of them is to the other, giving us a deeply satisfying climax. I left the movie theater feeling strangely evocative, but happy that we are blessed with movies like this every so often.
It will be sacrilegious to finish this review without acknowledging the people who made it a winner.While Ranbir Kapoor and Deepika Padukone definitely deserve the credit for making the movie lovable and appealing for the audience, the real star of the film is its writer and director, Imtiaz Ali.
This man understands the inner thoughts and emotions of a troubled soul and more importantly, knows how to depict them beautifully and deftly through the actors, on the big screen. I can also safely say that Imtiaz Ali has a natural flair for writing tragic yet exquisite love stories, as previously shown in Rockstar, Jab We Met, Highway, Love Aaj Kal, and now in Tamasha.
Finally, the story of Ved and Tara is musically supported by some truly mesmerizing melodies from the legendary A.R.Rahman. From the fun and upbeat Matargashti, and the folk tones of Heer Toh Badi Sad Hai and Wat Wat, to the soulful and mellifluous Agar Tum Saath Ho, the music of Tamasha complements the mood of the film brilliantly, and the tunes stay in your mind long after the movie has finished.
To sum it up, Tamasha may not be a movie you can watch multiple times, but it is definitely a movie which deserves to be viewed at least once. So if you are looking for a not-so-typical-Bollywood-love-story, Tamasha is just the film for you. If nothing, watch it for the electrifying chemistry between Deepika and Ranbir, who I still think were the most beautiful couple in Bollywood!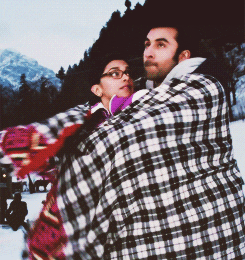 My Ratings for Tamasha- 4/5